A focus on finding the next best solution to solve the deepening housing shortage has become a major theme in 2015. The government has now shifted its efforts to Britain's brownfield sites that take up around 66,000 hectares of untapped, old commercial land. As around a third of this land is located in high growth regions in greater London and the south east, multiple projects are now underway to utilise these brownfield sites to meet increasing housing demands. Here are the figures to know and how brownfield sites will shape London and the south east over the coming years.
Fresh housing zones announced
The Mayor of London, Boris Johnson, announced nine new Housing Zones in the capital that will be constructed upon 1897.42 hectares of brownfield land – the equivalent of 2,656 football pitches. The first batch of unlocked land will become a home to 28,000 properties in the capital with the aid of a £260 million investment fund by 2025. The first Housing Zones will be placed in the boroughs of Barking and Dagenham, Bexley, Ealing, Royal Borough of Greenwich, Haringey, Harrow, Hounslow, Lewisham and Wandsworth and will include Barking Town Centre, Heart of Harrow and Southall in Ealing. More zones are being considered and up to 20 are expected to be designated by the end of 2015.
Five new schools, five station upgrades, four bridges, a park, shops, restaurants and libraries will sit alongside large areas of housing to create modern communities in the capital. A total of 52 regeneration schemes across London will create more than 56,000 construction jobs during the course of the regeneration until 2025.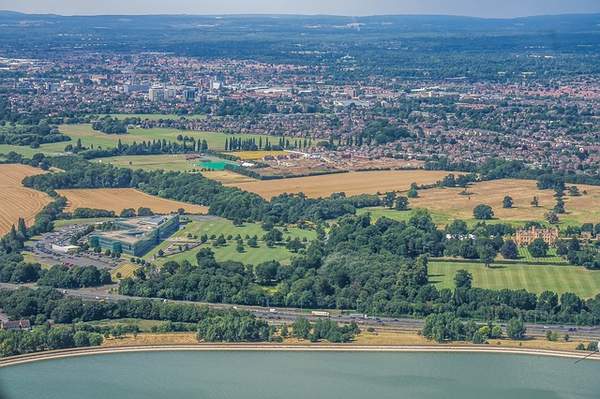 The Chancellor of the Exchequer, George Osborne, has been working closely with the mayor to set out a six-point Long Term Economic Plan for London that includes transport projects, investment in science and culture and the creation of new jobs. Those involved with the Housing Zones scheme are keen to mention other measures, such as the London Housing Bank that will release hundreds of acres owned by the GLA to construct 100,000 affordable homes.
During the announcement, Boris Johnson said: "As London's population continues to boom, already at its highest since records began and with more growth predicted, housing is a huge challenge. We need to double housebuilding and provide a million more homes by 2025."
Affordable housing figures
One of the largest problems that is contributing to the housing crisis in London is a lack of affordable housing. The government has come under fire in 2015 after a decision to slash Section 106 infrastructure and affordable housing contributions. As a result, councils across the country will lose millions that once were provided by developers.
Recent reports have highlighted that the issue remains unaddressed despite regeneration projects and housing announcements. The Financial Times revealed that just 20% of the 23,000 new homes currently under construction across 61 sites are classed as affordable while another report has disclosed a loss of 8,000 social properties following regeneration work to fifty London housing estates during the past decade.
The mayor's brownfield plans follow the same trend. Just 9,000 homes within the nine Housing Zones will be classed as affordable. Affordable figures differ from zone to zone: from 1,383 affordable homes in Hounslow to 1,785 in Southall. Whichever zone takes your fancy, less than half of the properties will be classed as affordable.
A mixed reaction
It has been estimated that London needs around 50,000 new homes a year to meet the high demands of its growing 8.6 million-strong community. Although London's brownfield sites are large enough for the construction of more than 365,000 homes at full capacity, this will only account for 46% of the new homes that London will require by 2030. The Housing Zones has been cited as a 'vast regeneration', however, 28,000 properties is a slight fraction of the housing that will be needed by 2025 - increased to 50,000 homes if all 20 Housing Zones are accepted. This has led to a mixed reaction among the public and calls for a review of the Green Belt and how parts could be developed in the future.
More than 20% of land in London falls within the Green Belt and ranges from beautiful parks to derelict spaces. While many agree that it would be detrimental to develop most of the Green Belt, a review would be able to designate unused, disregarded areas for future development.
In a response to this suggestion, David Cameron made it clear that the Conservative Party will protect the green belt if they were to win the general election this year.
During a speech on housing policy, the Prime Minister said: "When it comes to our Green Belt, I have been clear. The line remains scored in the sand – that land is precious. I am a country man. I love our countryside."
"Our priority is building on brownfield – and we've made it easier to do so.
"The aim is that by 2020, 90 per cent of suitable brownfield sites will have planning permission for housing."
Gain the latest insights, analysis and market information with LD Events: a leading property conference provider in the UK. We have offered a competitive advantage to thousands of professionals and investors from the UK and overseas. Please refer to our contact page if you have a query about an upcoming event.