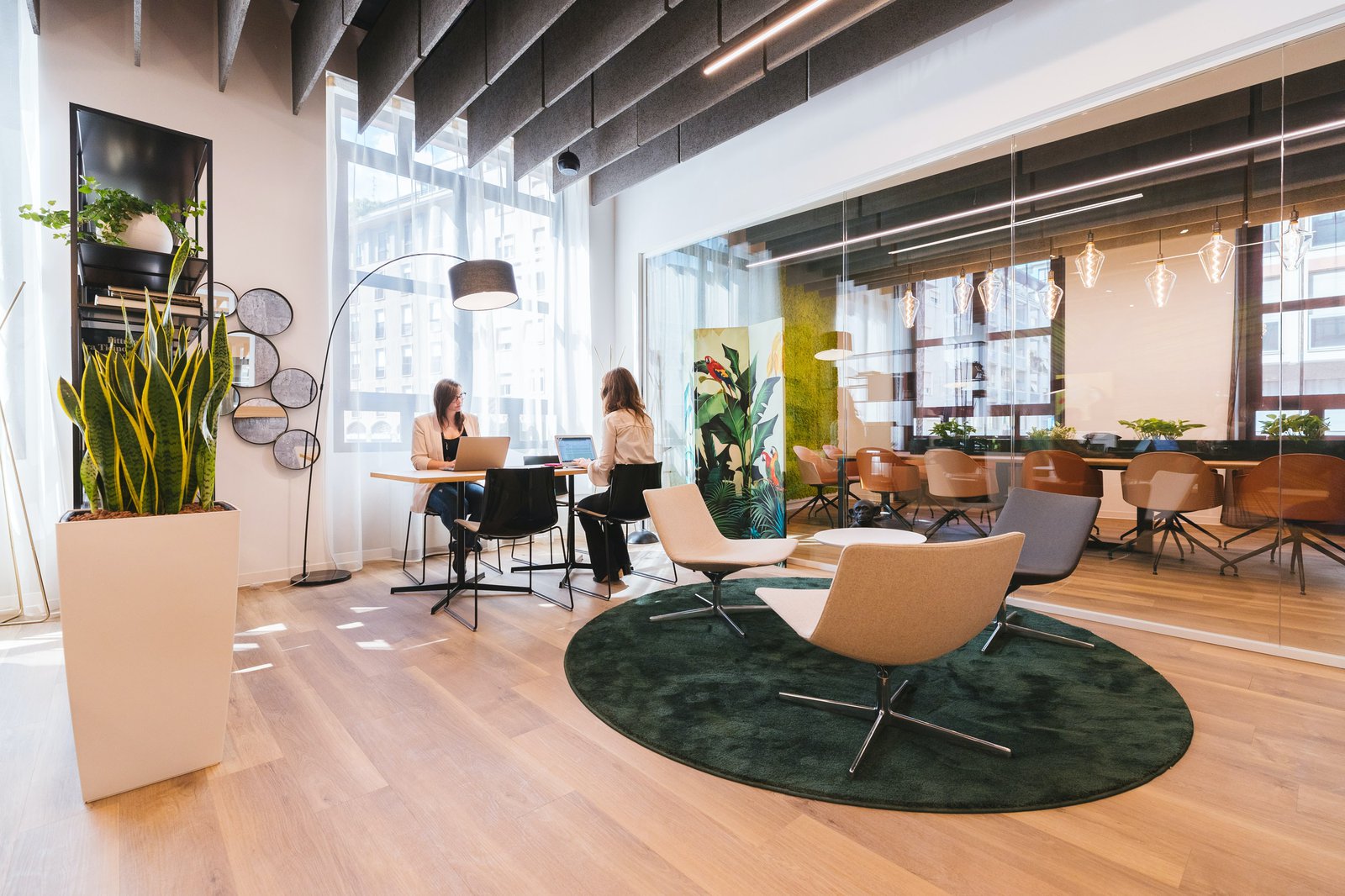 With the repercussions of the pandemic waging on and the reality of Brexit yet to come, 2021 looks set to be a year of settling into new habits and behaviours. We're looking at some of the key living and working trends to come in the new year, as predicted by experts.
Redefining of home zones
According to research from Beko and The Future Laboratory, we can expect a greater sense of blended spaces where home design is concerned, evolving from our need for the home to facilitate work, personal and leisure environments throughout this year[1].
Where open plan living had previously been popular for more flexible ways of utilising space, it's likely that the idea of multi-functionality will come into play much more from 2021. Moreover, insights from Dezeen have highlighted that buyers are increasingly looking for variety in rooms and spaces within homes, moving away from open plan altogether in a bid to create more privacy and clear separation between living and working environments[2].
Hyper-locality and 'regional revival'
Similar to the idea of 'zones' within housing, although not a new concept as far as town planning and urban development is concerned, some unique opportunities could come forward for smaller neighbourhood hubs, where a stronger focus on local services will provide much needed boosts to small businesses and stimulate local economies.
Following a year in which people have adjusted to filling their day to day needs locally or online, it stands to reason that this shift will remain in place for many, avoiding a need to commute to city centres. In fact, this trend looks set to go global, according to Professor Carlos Moreno, whose concept of a "15-minute city" was designed initially to eliminate pollution and create better opportunities for sustainable transport, green spaces and additional community facilities, and is reportedly being discussed within several different city planning departments worldwide[3].
Further afield and following the Government's announcement to move thousands of public sector roles out of London and spread across regions of the UK, we may also start to see players in the private sector considering regional hubs to create what Savills has described as "pockets of opportunity"[4]. With the nature of remote working creating a wider talent pool, organisations choosing to base themselves in varying cities with higher education prospects and good infrastructure can also support a more mobile skilled workforce to remove previous barriers.
Remote working and hybrid set-ups
Flexible working was not exactly a novel concept before the pandemic took hold, yet many organisations still had not considered it within their own structures. Now, with a good nine months of evidence to show that businesses need not worry about fragmented communication or employee productivity, plenty have made decisions to move fully remote and others have empowered employees to make the decision based on how they work best.
However, some building experts believe that we should let core social and community requirements unfold before rushing to build new spaces[5]. We've already seen how those in alternative residential sectors such as Build to Rent or Senior Living have adapted based on shifts within different demographics, but it could be argued that there is still further to go as the events of 2020 is one of very few in a lifetime to affect all populations at once.
Better access to healthcare within local communities, greater focus on pedestrianisation and open spaces for wellbeing have long been discussed as upcoming trends in the way we live moving forward, but the demand of particular facilities, such as mental health support, in 2021 is itself unprecedented.
Sign up to receive our newsletter for information about our 2021 property conferences and event reminders.
https://www.homesandgardens.com/news/three-ways-that-house-design-will-change-in-2021
https://www.dezeen.com/2020/12/09/homes-open-plan-spaces-albert-hill-modern-house/
https://www.propertyinvestortoday.co.uk/breaking-news/2020/12/property-market-predictions-for-2021--what-can-we-expect
https://www.savills.co.uk/blog/article/309058/commercial-property/our-friends-in-the-north--will-covid-19-be-the-catalyst-for-a-further-regional-revival-.aspx
https://www.businessleader.co.uk/how-will-2021-shape-the-places-and-spaces-where-we-live-work-and-play/105505/